Rapier Fencing
"The substance of fencing is its precepts of defending oneself well with the sword. Its form, order, and the truth of its rules are always and evermore true and infallible." - Ridolfo Capoferro, 1610
Elegant, swift and lethally effective, the Italian system of rapier swordplay was developed and documented during the 16th and 17th centuries. Combining realistic physical training with intellectual principles from geometry and Aristotle's Metaphysics, the Renaissance nobles and soldiers of Italy sought to develop an art of sword fighting which favored skill over brute strength by emphasizing concepts such as leverage, angles and timing.
Students of rapier fencing at the Ravenswood Academy are taught proper body alignment and mechanics from day one before they even pick up a sword. Once the correct state of posture and movements has been achieved, sword-on-sword drills are then practiced, with techniques lifted straight from 17th century rapier manuals and taught to the students. Building on these skills and techniques eventually culminates in free fencing exercises and more importantly, a method of 17th century rapier fencing inherently ingrained in the student.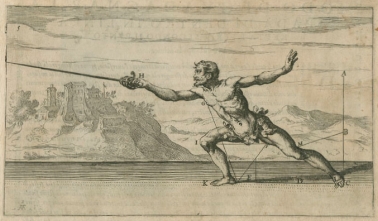 A 17th century plate depicting a proper rapier lunge.
A Ravenswood student thrusts home.
A typical practice rapier for student use from the Ravenswood Academy armory.